Hi Folks

Christmas is fast approaching and you all know what that means. Carols, a sumptuous feast, top class entertainment and above all a spectacular pantomime. The good news is that it is all at your folk club. However, we have a fair bit to get through before we get there!

This Friday, 23rd November, we say hello to the talented local duo EVANSTEVENS

Highly respected in their own right, Sue Stevens and Nick Evans have combined to produce a magical mix of well - crafted songs and not a little humour. Expect sparkling guitar work and delightful harmonies on a wide range of material from the traditional to Sue's own, well-constructed songs.

The following week, 30th November, we are privileged to give a very warm welcome to the immense talent of HARRIET BARTLETT.

Harriet has been a regular visitor to the club ever since Ian "discovered" her some 6 years ago. Quite simply, Harriet is probably the very best accordion player in the country and her prodigious talent is the envy of not only those amongst us who try to play any instrument but also amongst her peers; she is simply stunning. A great night of music and song is guaranteed and it would be advisable to arrive early.

The following week, 7th December we draw breath with a Singers Night when you can give an early airing to all your Christmas songs to put you in the mood for the annual WOODMAN CHRISTMAS PARTY and PANTOMIME on Friday 14th December.

Once again the lure of cross - dressing, Lynne's cobs and blackmail have managed to secure the services of the Bromsgrove mafia in the shape of the wonderfully talented FAIRFIELD. Fairfield is quite simply, one of the best "good –time" bands that you are likely to see. Not only do they sing and play well, they are always willing to add just that little bit of class to our humble Pantomime. This is not a night to miss! (OK guys, is that sufficiently obsequious enough for you?)

The great news is that you have an opportunity to see this extravaganza for nothing by winning 2 tickets in our CHRISTMAS COMPETITION. Just supply a caption for the following photograph. Entries please either by E Mail no later than Wednesday 5th December or hand them direct to me on Friday 30th November.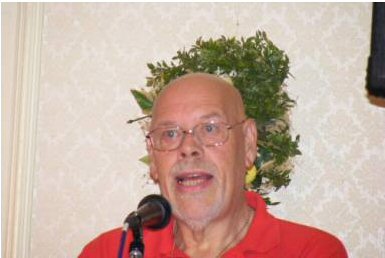 Best of luck!

Thank you for your continued support and we look forward to seeing you all soon